>> Monday, June 29, 2009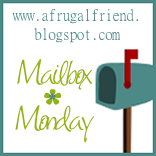 This is what showed up in my mailbox this week:
My 4th and final free chocolate coupon from Mars. You can still get these each Friday here.
A coupon for a Free DiGiorno Flatbread Melt
Jennie-O Recipe booklet and $5 off coupon
Not in my mailbox but also received:
$10 GC to a local deli and 4 free ice cream coupons to DQ for serving at VBS last week.
My daughters received free kids meal coupons to Chick-fil-A with their VBS certificates.