>> Monday, June 22, 2009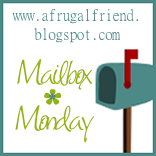 This is what I got for free this week:
Bounce Dryer Bar from Vocalpoint
$5 Target Gift Card and Aveeno Travel Bag-From a blog giveaway. Yay!
Through email: My mall has a customer program that you can sign up for online. They periodically send out surveys and coupons. This past week they sent an email that allowed me to go and get a free $10 mall gift card. They also gave me a coupon for a free Chick-fil-a sandwich. Check with your mall to see if you have a program like this.